WORDS are powerful; you only have to read the newspapers or sections of this website to understand the power of words.
In my work with individuals I show them the power of internal language, and the benefits of changing that internal language or perception.
For example, think of something you would like so very much to do. It doesn't matter what it is, but you can't do it. Now imagine you were stating that fact to another person, so your language might be. I can't swim! Or, I can't ride a bike, or I can't drive. Whatever it is for you just think of that statement.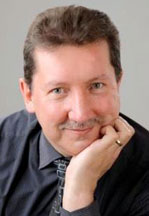 And then think how it makes you feel. It reinforces the fact that you are limited in your life in some way. It may make you feel down, or you may not even want to talk about. The feelings you feel, are as a direct result of your thoughts and your statement of your inability to do something you want to do.
But now think of your 'can't' statement, but this time put the word 'yet' on the end of your sentence. So for the examples above it would be, I can't swim, yet, or I can't ride a bike, yet, or I can't drive, yet.
The word 'yet', changes not only the statement by opening it up, but changes the emotions too. Previously the statement "I can't drive" was closed down, it is negative, and it stops you even trying.
But the word 'yet', those three little letters bring a whole new meaning and feeling to that statement. It opens it up. You might not be able to drive now, or whatever you chose for your personal circumstances, but adding the word yet, brings hope, expectation, positivity, determination, motivation and much more. The word yet shows its power simply, gently, yet very effectively. It invokes positive feelings inside and you feel the benefit of it.
That simple example is just that, a simple example of the power of words and how they can help us. But just as strongly our words can stop us even trying to change. Words affect emotions, and emotions and their descriptions can affect the words we use. It becomes a vicious cycle, a cycle that needs to be broken.
The use of this information, coupled with my skills and experience as a hypnotherapist can help reduce negative thoughts and self-limiting beliefs, bringing a new perspective, more drive and motivation, more confidence and self-esteem and so much more. So whether you are self-employed, unemployed, a director or employed within a large or small organisation and you want to feel and be more; perhaps to reach your goals or even to establish some goals then contact me and let's see what we can do to enrich your life.
In these difficult times, it is more important than ever, to be your best, to learn new skills, to be more confident, to be able to manage stress and anxiety effectively. So if you need help, make an appointment, you can't tell me anything I haven't heard before, and I may be able to help.
Finally, I would like to mention that my practice continues to grow, and I now also have an office based at the Woolston Neighbourhood Hub, Warrington, off Manchester Road, in the practice of Dr Reynolds and partners; it is a modern, professional practice with friendly efficient staff.